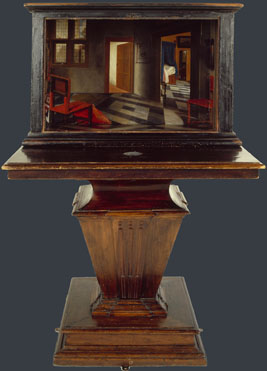 --Samuel van Hoogstraten,
Perspective Box With Views of the Interior of Dutch House
c. 1655-'60 (The National Gallery, London)
--van Hoogstraten, Les Paouffles, 1658 (The Louvre)
Who lives in this house? (I can smell the pannekoeken in the pan, butter browning, with cinnamon...)
Here Bachelard's "poetics of space" meets Tolkien's "elvish craft of Enchantment, the sub-creation of a Secondary World." Calvino's sixth principle, Visibility, merges with Benjamin's "panoramas, dioramas, cosmoramas...phantasmagorical and fantasmaparastatic experiences, picturesque journeys in a room."
--Ulla von Brandenburg, Mephisto/ Angel/ Krawatten, abgeschnitten, 2010 (installation at The Common Guild, Glasgow)
Who lives here? (Travelers from afar perhaps, with the heads of dolphins, who speak in hieroglyphics).
--- A Tony Duquette interior, mid-20th-century.
Who lives here? (A family of connoisseurs I think, with soft velvet paws and eyes that gleam like rubies).
Narnia entered through a wardrobe in a spare room. The endless battery of rooms and passages that constitutes Gormenghast, the world-castle. The rooms that mutate, move and cannot be accurately measured in Danielewski's House of Leaves (like Dr. Who's TARDIS, the interior is much larger than the exterior). Down a rabbit-hole Alice fell, one lined "with cupboards and bookshelves; here and there she saw maps and pictures hung upon pegs." A hobbit-hole ("and that means comfort"), with its "panelled walls, and floors tiled and carpeted, provided with polished chairs." The "miniature, perfect Palladian house...with its sweet, retiring melancholy grace" in Angela Carter's "The Courtship of Mr. Lyon."
---Anne Hardy, Cipher, 2007
Who lives here? (A retirement home for Arlecchino and other characters from the Commedia dell'Arte?)
Worlds described within four walls in the novels of Dickens, Proust, Henry James, and Edith Wharton (who made her name first with The Decoration of Houses, published in 1897). Proust again, on the hotel in Doncieres: "an assembly of rooms as real as a colony of people." The famous opening chapter of Balzac's Pere Goriot, describing in the most minute, sociological detail the situation and outfitting of the Maison Vauquer and its peculiar inhabitants ("Nothing can be more depressing than the sight of that sitting room. The furniture is covered with horse hair woven in alternate dull and glossy stripes. There is a round table in the middle, with a purplish-red marble top, on which there stands, by way of ornament, the inevitable white china tea-service, covered with a half-effaced gilt network.") The care with which Mann describes the house of the Buddenbrooks, with which Stefan Zweig recalls elements of architecture in his boyhood Vienna.
Each of us now elvish enchanters in our own small spaces, creating secondary worlds for ourselves. ("Domestic," with root to "home," filiated with "to build," allied with "domination.") The IKEA catalog as a cousin to The Hobbit; Pottery Barn, Crate & Barrel, Restoration Hardware... names of realms as potent and perilous as Faerie itself-- maybe these are the latest outposts, in fact, of Faerie on mortal terrain. Rizzoli and Abrams the names of conjurors akin to Gandalf.
The two images below are by Laurie Simmons, from her Black Series, 1978-'79.